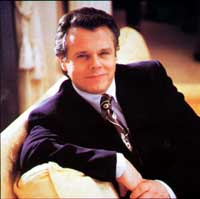 Mariss Jansons is the new Music Director of the world reknown Pittsburgh Symphony Orchestra. The "fifty something" gentleman (who speaks five languages!) made his concert debut with the Orchestra on February 7, 1997. But the Pittsburgh Symphony Orchestra has been around much, much longer.
Since its first international tour in 1947, the Pittsburgh Symphony has confirmed its ranking as a world-class orchestra, earning high critical acclaim for each tour abroad. The 21 international tours include seven European tours including the Soviet Union, Poland the three trips to the Far East. The Orchestra also enjoys an equally distinguished record of domestic tours which, over the years, have showcased the PSO in most of America's major cities.
But, the Pittsburgh Symphony Orchestra calls Pittsburgh and the elegant Heinz Hall for the Performing Arts home and as a visitor to Pittsburgh you can enjoy this world-class orchestra in their favorite surroundings.