Arturo Sandoval Biography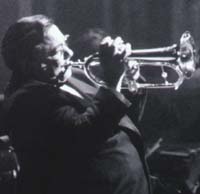 Arturo Sandoval, the great Cuban-born trumpet player, moved to Florida when he was granted political asylum in 1990. A protege of Dizzy Gillespie, Sandoval began studying classical trumpet at age 12 in Havana and has become one of the world's most acknowledged guardians of jazz trumpet, as well as a renowned classical artist.
Sandoval has had 11 Grammy nominations and has been awarded three. He was a featured artist in the acclaimed Dizzy Gillespie United Nations Orchestra and his playing can be heard on the soundtracks of "Mambo Kings" and "The Perez Family". Additionally, he was commissioned by the Kennedy Center to compose the music for the ballet of "Pepito's Story", choreographed by Debbie Allen.
Home&nbsp Editorial&nbsp Overview&nbsp Events&nbsp Subscribe&nbsp Arts&nbsp Media Kit&nbsp Links&nbsp Congress E-Mail